Outdoor Living Areas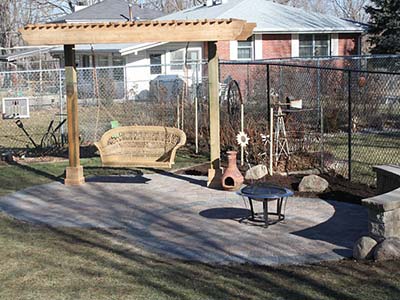 If you have wanted to have a place to simply relax or entertain friends and family outdoors then the addition of an outdoor living area is the way to go. This has become one of the most popular home renovation projects that are carried out property owners. It is a great way to enjoy being outdoors instead of being cooped up inside.

Nowadays so many residential properties, resorts, hotels, restaurants and community sites are extending their living areas into the outdoors and installing some really stunning outdoor spaces. There are many options that can transform wasted outdoor space into an outdoor entertainment hub or provide you with extra living area that is not only functional and convenient but also great to look at.

Some of the more favorable outdoor living area applications include outdoor kitchens, patios, outdoor fireplaces and pergolas. Radik Landscape Construction have been constructing and building residential and commercial outdoor living areas for more many years. We will custom design an outdoor living plan that will tick all of your boxes. Our designers will work closely with you and turn your existing landscapes into an entertainers delight.

We can confidently work off the plan you have in your possession or we can even help you design the perfect outdoor living area design from scratch. If you are stuck for ideas then browse our portfolio and you see some of our awesome outdoor living area designs.


Outdoor Living Area Ideas
Pergolas: are beautiful outdoor structures that are traditionally built using timber. However, nowadays there is a range of other materials commonly being used including vinyl. A pergola creates extra outdoor living space by providing you a place to sit and relax in the outdoors. The great thing about pergolas is that they look awesome and create a really nice feature in any landscape setting. There are so many options when it comes to pergolas; no two are ever the same.


Outdoor Kitchens: if you want to do more entertaining outdoors and you have the space then an outdoor kitchen is the perfect thing for you. We have seen the increased popularity of outdoor kitchens over the last few years. They provide you with a place not only enjoy the outdoors but also to have some great get-togethers and dinners. We can install a kitchen as simple or as detailed as you like.


Patios: at Radik Landscape Construction we believe that every home should have a patio. They are a great investment. Not only do they enhance the look of your landscapes but they also add value to your home by adding to the amount of living space you have. So it really is a win win situation.
Professional Outdoor Services
Radik Landscape Construction can build you the perfect outdoor living area based on all of your needs and requirements. We will meet your style and budget needs also. It is our aim to ensure that you are completely satisfied with your new outdoor living area. We can supply all of the building materials required for the structural elements; we can construct the entire outdoor living are and the surrounding features like install plants, and any other additional structures. Our landscape and hardscape contractors are professionally trained and qualified with extensive years of experience and knowledge in building all types of outdoor living areas so don't hesitate and contact the professionals here at Radik Landscape Construction today for a free consultation.

Click on the images below to view a larger display.


Photo 10

Photo 11